Hello again, World! It's P, C & B review time :-). We bring you three impressions of the same book - good way to help you decide if you want to read the book (end of commercial).
Okay, so we stayed in the paranormal genre with a witches/ghosts: Tangled Souls by Jana Oliver.
As always, when you're done reading my review, please head over to reviews of the same book by Nana Prah and Cathrine Constantine.
Blurb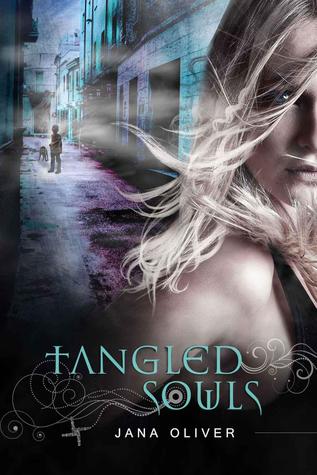 Wiccan Gavenia Kingsgrave's psychic gift, the ability to talk to the dead, comes with strings attached. As a Shepherd, she escorts them into the hereafter, but not all the souls want to cross over, and some can be downright vicious. When her latest case involves a heart-breaking hit-and-run victim, Gavenia is stressed to the max. The last thing she needs is a no-nonsense private detective on her tail, even if he is a handsome Irishman.
Former homicide detective Douglas O'Fallon possesses his own psychic gift, one he's denied for years. Hired by a wealthy client to prove that Gavenia's a con artist, he is sceptical of the witch's claims she can speak to the dead. If he finds her gift as genuine, then he will be forced to accept his own. When their two cases intersect, opposites attract. But will they be able to set their differences aside long enough to outwit their foes – both the living and the dead?
My Impressions
The book begins aptly with funeral, and we are immediately thrust into a crime/mystery scenario. The romance, is introduced a little later, which worked for me.
There are a lot angles to the story and each one needed page time.
On one hand we have a macho hero, an ex-cop turned PI, with multiple failed marriages and a psychic gift he's bent on denying - did I mention he's Catholic? - and on the other hand, we have a heroine who is a registered witch with major scars from her past.
I like romance stories where the author takes time to build the romance, and Jana Oliver does just that. For readers who are impatient to get to the sex, it is worth the wait.
The author does a good job of managing all the things going on in the story and developing likable, believable characters. The only flaw in that plan was that my favourite characters turned out to be the hero's pet and dog named Merlin. The hero and heroine were a close second.
There was one loose end that the author forgot (?) to tie, and that was (SPOILER ALERT) dealing with the ghost of her brother-in-law.
Other than that, I found Tangled Souls to be a very enjoyable read. Definitely recommended.
I bought this book from Amazon.